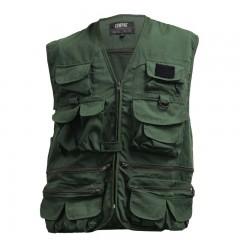 Fishing Vest - Compac - Forest Green
Designed with 60% cotton and 40% polyester, the Compac Fishing Vest contains 25 pockets to store your fishing gear, a full length zipper and a front snap fastener. Also featuring a lambs wool fly patch to keep the flies handy for quick re-ties.
Compac
Made from 60% cotton/40% polyester
Front snap fastener
25 pockets
Full length zipper
Lambs wool fly patch
Specifications
Stock #
SIZE
MSRP
641-XXL
XXL
$50.00
641-XL
XL
$50.00
Other Fishing Vests.
Reviews
Add Review
There are no reviews for this product. Be the first one!