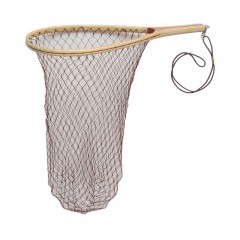 Wood Net
The handcrafted Streamside® wood net is made with a sturdy wooden frame and a deep 23" pocket. Mesh is made with a soft, fish friendly construction and lanyard features an easy to use loop system that attaches to your vest.
Streamside
Wood frame
Soft, non-abrasive mesh won't harm the fish
Handcrafted, traditional teardrop style
Loop system attaches to the back of your vest for ease of use
Specifications
Stock #
DIMENSIONS
MSRP
715
14" X 8" X 23"
-
Other Landing Nets.
Reviews
Add Review
There are no reviews for this product. Be the first one!